SILVERHAWK'S CREATIONS.
MOUNTAIN LION CLAW PENDANTS:
©1997-2006 Sam Silverhawk. All Rights Reserved.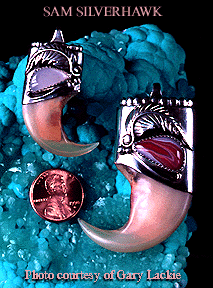 These genuine Mountain lion or cougar claws are polished to a high luster, and set in individually fitted Sterling silver caps. A variety of gemstones and designs may be added. This picture shows the 'living line', with leaves and a flowing motif. The red-banded stone in the larger claw is a Laguna agate, and the other is set with moonstone. Images shown, for example only, are slightly larger than actual size.

Prices will vary, depending upon choice of stone and design. Please inquire as to availability and cost.
---
This beautiful mountain lion claw photo is courtesy of Gary Lackie. THANKS BROTHER, you're the best!
***Please note***
All sales of items made with game mammal parts (such as these cougar claws) are regulated by varying state laws.
When ordering, please be sure to include your resident state, so those regulations can be checked prior to sale.
Sorry, no international orders accepted.


...or continue through the gallery by clicking below.