My wife Rain and my cousin recently met with Janet and George Sechler, owners of Oasis Prospecting, in their Washington home.  Their visit was twofold:  Rain is creating a new Royal Sahara Jasper website for the Sechlers (who discovered RSJ), and was showing them the ins and outs of adding items to it, while my cousin was given the opportunity to sort through countless barrels of fine Royal Sahara Jasper®, so I'd have some of the very best rough material from which to cut cabochons.  And WOW, what they brought home to me is truly outstanding!  Feast your eyes on this sampling: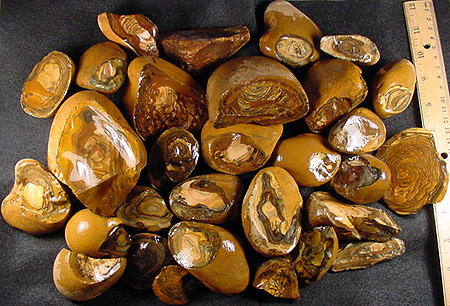 Believe me when I say, these pieces are even more fascinating in hand…  Here's a closer look at some of my favorites:
George and Janet were absolutely wonderful!  Both Rain and my cousin found them to be very warm-hearted folks, who kindly entertained with plenty of adventurous stories about their discovery of Royal Sahara Jasper®, and what it's like in the Sahara Desert.  Rain and Janet whipped up a scrumptious dinner for everyone too.  And they were certainly very VERY generous to my family!  George dumped out a couple of extra special barrels of his 'King's Choice' material, and Janet did the same with several barrels labelled 'Janet's Choice'.  They contained outstanding NEW top grade nodules, part of the long-awaited shipment delivered that same day.  Great timing, I must say!!  Check out the beauty below, complete with shiny METALLIC dendrites!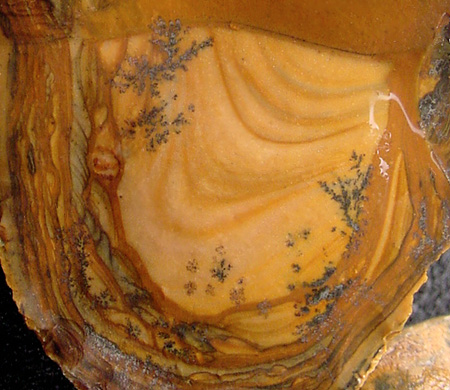 I am excited beyond words to have these fine examples, thanks to George and Janet.  These pieces are truly future heirlooms, especially the scenic ones, destined to take part in your finest wearable art creations.  The composite pic below will surely whet your appetite: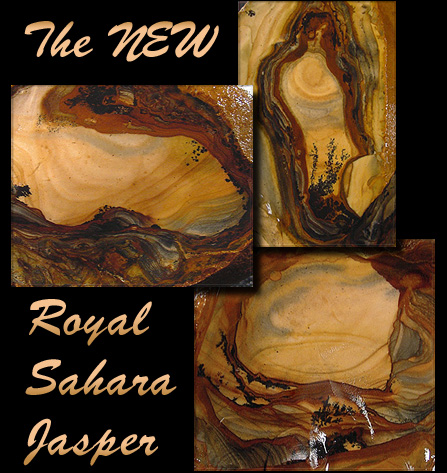 No doubt you can see the great potential in these! 
Royal Sahara Jasper® is a hard, fine grained porcelain-like material that takes a fabulous glassy shine.   You can read more about it in the Feb. 2008 issue of Lapidary Journal, featuring this amazing new find.  RSJ is the perfect starting place if your aim is to create totally UNIQUE jewelry, as every piece is just naturally one-of-a-kind.  There are several cabbed examples in the SOLD gallery of my Designer Gems site, in case you'd like to see them, and I will endeavor to include a new cabochon or two each time new stones are added.  So please stay tuned, friends!  
-Sam